We have rolled out a new name and new user interface for Vitrium's Protectedpdf. The document security software that you've grown to love will now be known as Vitrium Security and along with that, comes a completely re-designed administrative interface designed to improve your experience and workflow process. Our aim is to make everything you have grown to love about Vitrium's Protectedpdf more accessible and intuitive, so you can continue to enjoy protecting your content with ease.
What Has Changed & Why?
---
New name and color scheme
Protectedpdf is no more! Going forward the product that you have enjoyed over the years will be called Vitrium Security. The reason for that is simple: following the release this summer of improved protection for Microsoft Office files and added integration with Microsoft Outlook, Word, Excel, and Powerpoint, our aim is to continue to move towards protecting more than just PDF files. We also have plans to add more file formats to the platform in the near future.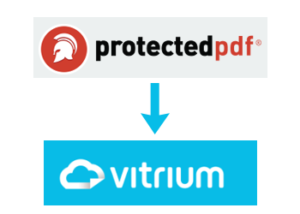 Our colors and overall look have also undergone a major makeover!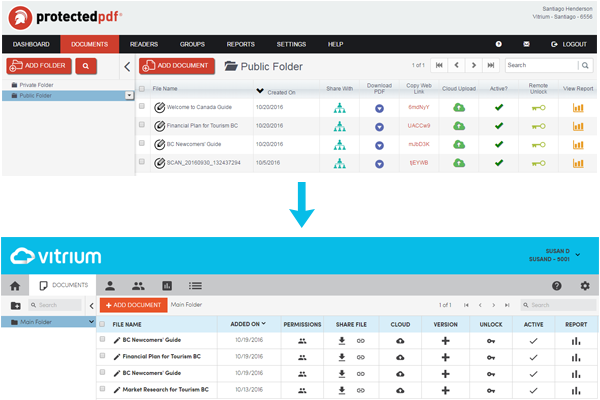 ---
'Readers' are now 'Users'
We have changed the audience terminology to 'Users'. We heard back from many of you that you differ in the ways you identify your audience (subscribers, readers, members, students, etc.). Whatever term you may use, the focus remains on the ability of your audience to access and use the secured content you provide. Also, we felt like PDFs and Office content come in all shapes and form, not just text, so 'Users' better represents the nature of the interactions your audience has with your content.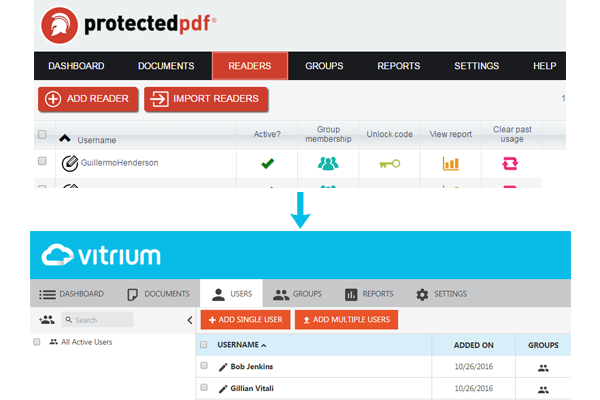 ---
New feature: "Add Multiple Users"
We have streamlined your ability to add multiple users to your account. You will continue to have the option to bulk add users through importing .csv files, but now you can also add multiple users from the Vitrium Security interface.
In our new interface, you can add multiple users directly from the 'Users' menu by simply clicking on 'Add Multiple Users'.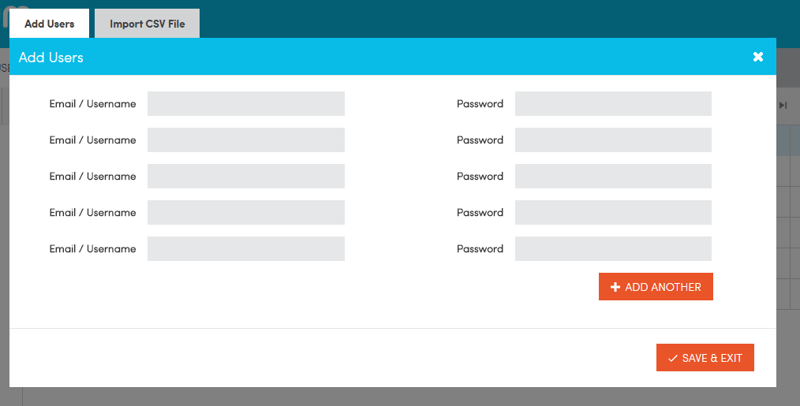 ---
Viewing Group Permissions
The view for groups no longer defaults to 'Show Members Only' when managing the list of users. Instead, it shows you two columns: left column lists all the users in your account; whilst the column on the right shows the users associated with the document/group level.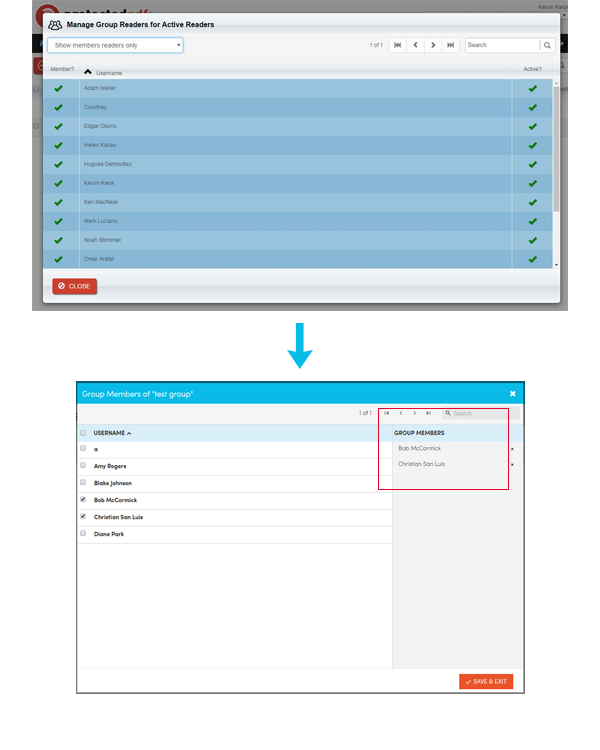 ---
'Share Settings' are now 'DRM Policy Settings'
The term "Share" can mean so many things across the technology landscape, and few of them have to do with your document security settings. DRM (or Digital Rights Management) clarifies the purpose of this Account Settings feature. Going forward, you will still see the term "Share File" in the documents tab, where you'll have the options to choose the action you take to distribute your content.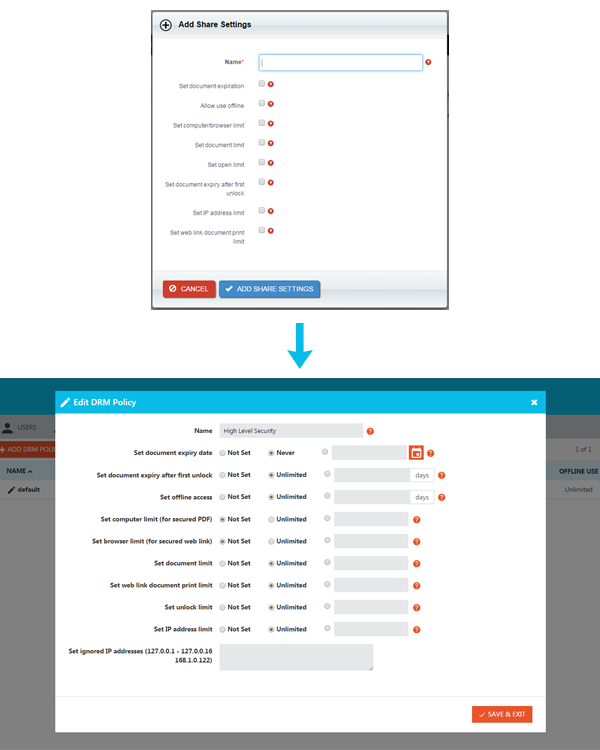 ---
New Tabs to improve your workflow
We have tightened the display and workflow for most pop-up menus you find in Vitrium Security. Instead of our 'Advanced Options' expanding vertically, we have added relevant tabs to the window. These tabs readily display all your available controls, so you can manage most features related to your document releases from one place.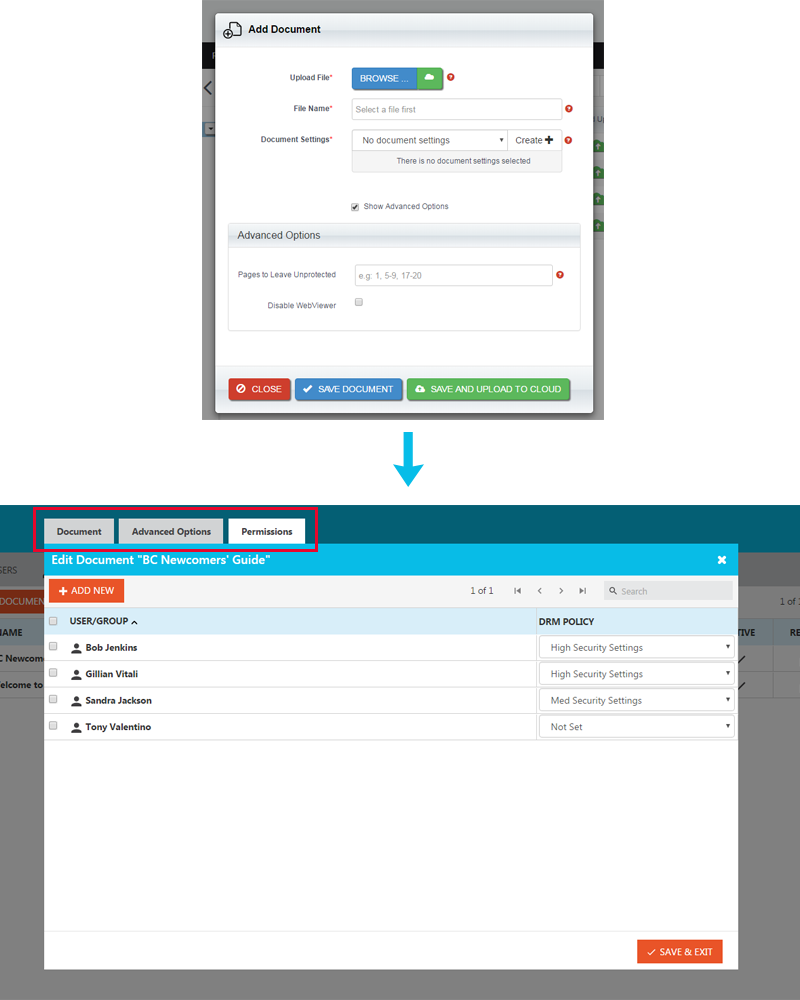 In addition, we added 'Permission' to the 'Add Documents' window. This will let you manage your individual users and user groups within the upload document window, streamlining the process of adding a document to your Vitrium Security drive. Which brings us to...
---
'Share with' are now 'Permissions'
You will continue to be able to pick the users you give access to from the Documents window, but now we will be calling those "Permissions".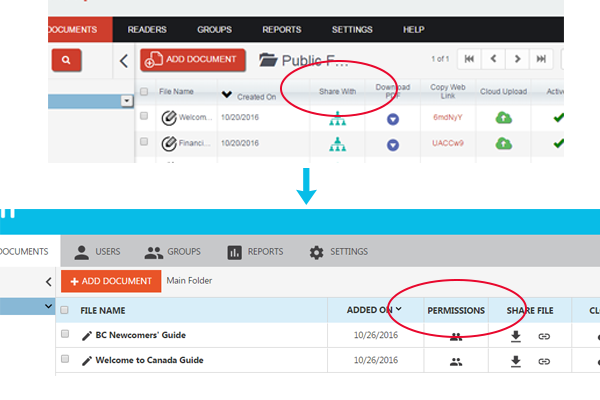 ---

---
We have been working hard to develop these changes and are excited to bring you the brand new interface and improvements to your workflow and experience. All our support documentation, helpdesk materials, videos, and troubleshooting documents will be available with details of the new features following the new interface launch.
Your patience is appreciated and we hope you enjoy Vitrium Security as much as you have Protectedpdf. This new release sets the stage for more improvements to come as we continue to focus on making Vitrium Security a better experience for you and your audience.
Stay tuned for more updates as we will keep you informed of any training sessions and developments with this new release.
As always, if you have any questions, we are here to help.