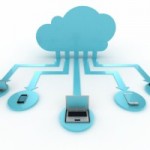 The cloud is officially part of our IT infrastructure in the enterprise now. It's no longer a question of "what do you use for online file sharing?" It's a given. People are using them…at work, for work….and they are here to stay. Enterprise IT security now needs to address the use of such file sharing sites such as Dropbox, Box, Google Drive, and many others as they present additional holes or data leaks to protect in their ever-expanding network 'universe'.

In recent blogs, I have spoken about the need to offer the convenience of the cloud – everyone is on the go and taking work with them wherever they go. The use of multiple devices, BYOD (bring-your-own-device) initiatives, and the file sharing platforms are making our professional and personal lives more efficient, and this is becoming the way of life for many

And this is all great. We are all very busy and we need to be efficient.

Problem is, the IT security folks have very little control over what kind of content is being published to these sites. And it's not just IT security and the business leaders that should be concerned – people are storing highly sensitive personal information in the cloud, thinking it's safe.

But the cloud is not safe. And files stored in a 'secure' cloud environment are not always safe either.

Cloud file sharing sites are like a house with a lock on the front door. A thief can still break in and steel your possessions – electronics, jewelry, money and other valuables. Thieves are creative and online hackers are geeky thieves – smart, savvy and technical wizards!

Let's go back to our house analogy. We can take additional steps to further protect our house – we can buy safes, install alarms and cameras, and we can even put tracking devices on our most prized possessions. And now we start to feel better about the safety of our things. This is where Vitrium comes in. Vitrium offers the ability and convenience for companies to protect and upload their content directly to platforms like Box, Dropbox, Google Drive, OneDrive and even Salesforce with its document security software. Now you get the best of both worlds – the convenience of sharing files in the cloud with the security and peace of mind that the files are secured with government-grade encryption. And the bonus, the files remain secured even if a breach occurs. Vitrium's security always travels with the documents.

Think of securing your content the same way you would secure the things in your house. Use a digital rights management solution and enforce strict policies around the use of cloud file sharing so that your 'things' don't get stolen.

I wish you happy and SECURE cloud file sharing!