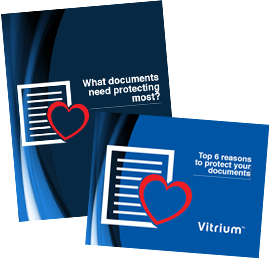 [PR Web] Vitrium™, a leading provider of PDF security and DRM solutions, wants to bring best practices for document security to the forefront of the global discussion happening today around data security, and ensure that companies have all the information they need to make informed choices.

Vitrium's new white paper, What Documents Need Protecting Most?, addresses the need to decipher which documents are worth protecting – a vital first step when considering whether or not to adopt a DRM solution. In this free white paper, Vitrium seeks to help customers assess the value of their documents and data, determine what kinds of documents generally need to be considered for document security, along with a list of what industries need to protect their data and documents.

Customers can also find information on the types of risks that might occur with unprotected documents such as: document and data leaks, hacks, data intrusions into private networks, permission-based misuse, loss, misdirection, malicious attack, unsecured documents on lost or stolen devices, copyright and trademark infringement, and other means of document misuse.

In the white paper, Vitrium discusses how these risks can not only affect a company's economic future, but can also expose the company or organization to potential damage to their brand, reputation, compliance, or lack of competitiveness. Vitrium offers a few simple suggestions to consider when assessing which documents are best suited for document security.

Vitrium's second offering, and free new eBook, Top 6 Reasons to Protect Your Documents, discusses the main reasons why organizations interested in protecting their bottom-line need to secure their digital assets and insure against loss of revenue from piracy, theft and illegal sharing. In this eBook, Vitrium outlines the top reasons for securing documents in today's marketplace, discusses reasons for using the PDF format, and outlines steps on how organizations can implement a document protection plan to ensure their digital assets are protected.

"Whether or not customers protect their documents using our Protectedpdf® software, we want to bring the issue of document security to the forefront. It's essential that good information is available for organizations that have a need to protect their documents and the data in them – or least get better at it. Not only can this protect their bottom-line, but it also demonstrates good leadership and best practice on the issue of data security globally."
Susan Daly, President & CEO, Vitrium Systems Inc.