Eloquent Partners With Vitrium to Expand Services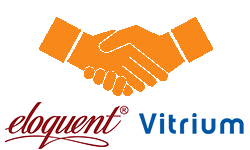 Vitrium recently partnered with Eloquent, who provides knowledge management professionals with software systems for organizing information about physical and digital assets. The seamless interface between Eloquent and Vitrium's Protectedpdf allows their customers to include highly sensitive documents in the same Eloquent database as other resources that are promoted to the general public. Giving readers only one place to look, the documents are easy to read anytime, anywhere and accessible on mobile devices.
Confidential documents in Eloquent's database are now very secure. With Protectedpdf's security settings, intended readers will be able to read the documents, but they will not be able to share or copy them. Other users will not be aware that they are in the database. Since the documents are encrypted, they will stay secured when emailing them.
Eloquent customers with PDF-based content, such as training materials, student marks, research reports, financial documents, manuscripts, eBooks, and more, can start leveraging these features to improve their end user (or reader) engagement, while still ensuring that their documents are protected against unauthorized access and file sharing.
Managers will be able to monitor the performance of their documents with detailed, real-time data and use these metrics to improve the effectiveness of their content. Through document-level and page-level statistics such as document unlocks, reader count, reading time, and read through rate, content publishers will have a better understanding of reader behavior and be able to optimize their content for a better reading experience. They will also discover who their most active readers are, what applications or browsers are used, and where their readers are located to ensure that their content is reaching the right target audience.