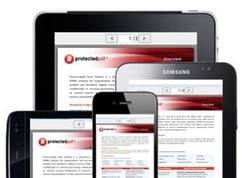 [PR Web] Vitrium™, a leading provider of PDF protection and document security solutions, announced today that it has revolutionized how PDF documents can be viewed with the launch of its new HTML5 based web viewer this past January.

This makes the company the first document security software provider to go to market with an online secure PDF viewer – and it's already receiving glowing reviews from Vitrium customers and readers.

Please join Vitrium HERE for a brief webinar of how this new feature works!

Many readers hate DRM (document rights management) for how it limits their reading experience, and Vitrium is listening. The company's Protectedpdf® solution now offers customers multiple options whereas it previously only had one – to view their secured PDF documents with Adobe Reader installed on their local computer. Now, with Vitrium's web solution, protected documents are more accessible and less intrusive than ever before.

The new functionality comes at a time when more and more readers want to open documents on any web-enabled device, and publishers of secure documents are racing to meet this demand and add greater flexibility into the market. With this feature, Vitrium's customers now have the option to publish their document online via an HTML5 web link, sending a secure web version of the document to their readers who can access their documents anytime, anywhere, on any web-enabled device. Also, since the web link is entirely browser based, there are no messy installations, firewalls, proxies, or other obstacles between the publishers and readers. This opens up opportunities for publishing documents to environments were user computers are IT restricted because where the browser can go the document can flow.

Readers will appreciate that there are no plugins, downloads or any other hassles disrupting access to the document, providing the seamless experience they want, and the security balance that publishers need to protect their investment. Publishers simply enable rights within Protectedpdf® and send out the link. The lightweight HTML5 codebase enables the browser to display pages quickly with a minimal loading time. In addition, all of the features of Protectedpdf® customers expect, such as document protection, tracking, controls, revocation and expiry, and watermarking are included with the new web viewer dependent upon the customer's existing configuration options. The solution will work with any modern web browser and Internet enabled device. Vitrium is offering this new feature at no extra cost to Protectedpdf® customers.
"Vitrium's Protectedpdf® web viewer has made a huge impact at the American Trucking Associations. We can now secure our intellectual property for our members and sell them to our customers, online, in a fast and easy web link, accessible anywhere. I'd recommend Vitrium's Protectedpdf® web viewer for securing PDFs."

– Shehab Moustafa, VP, Information Technology
American Trucking Associations
"Protectedpdf® customers now have more options for delivering their secure documents than ever before." says Susan Daly, CEO at Vitrium Systems. "We wanted to improve and enhance our technology to help our customers retain their reader's loyalty by providing a good experience viewing a secure document. We're delighted with the quality, usability and uptake of this new feature within our Protectedpdf® product line."

- Susan Daly, President & CEO
Vitrium Systems Inc.
About Vitrium Systems
Vitrium provides document security solutions that empower content owners and publishers of PDF documents to protect their valuable content. It's more than copyright protection; it's protection of intellectual property, revenue-generating content, or confidential and sensitive information. Vitrium's flagship product, Protectedpdf® has been trusted by over 1,000 companies and accessed by over a million users worldwide.