[PR Web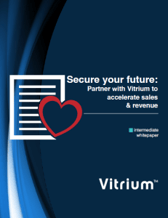 ] Vitrium™, a leading provider of PDF security and DRM solutions, announced today that it has launched a channel partner program to empower businesses to address document security needs in their markets. Value Added Resellers (VARs) and other resellers are invited to distribute Vitrium's Protectedpdf® cloud and installed software solution to their enterprise and commercial customers.

The new Vitrium Channel Program is designed to help businesses meet the increasing market demand for mobile friendly document security solutions that travel with the document, and are plugin-free.

Roughly 60%(1) of workplace readers use more than two devices, plus readers share files more than ever before(2). These shared documents (and the content in them) are more vulnerable today for theft and loss in any industry. Recent news of spectacular security failures in the document sharing space has made markets more aware of security issues in the cloud file sharing market in general, and this understanding, coupled with tremendous overall growth in this sector, means that companies can partner with Vitrium to capitalize on these growth opportunities. Together, we can help more customers protect their content better, and that helps make content a little safer for everyone.

Check out Vitrium's Channel Partner Program for more detailed information.

About the New Channel Program

Vitrium comes to market with four new partnership opportunities:
Referral Partner: The "Referral Partner" program entices go-getters to go get leads and bring them to Vitrium for a commission. Vitrium hopes to attract business in the SMB market with this offering.
Reseller Partner: Vitrium's "Reseller Partner" is aimed at VAR's (value-added resellers) and other businesses. The Reseller program has 3 tiers: the "Sentry", "Guardian" and "Vanguard" designed to match the seller's business. The program offers several benefits such as discounts, co-marketing, joint business planning sessions, sales training, and more, depending on the selected tier.
OEM Partner: Vitrium wants to enable software developers to access greater market potential by offering document protection embedded into their solutions. Integrating Protectedpdf® will and shorten development cycles and give OEM partners access to a wide range of partner benefits.
Strategic Partner: With its "Strategic Partner" program, Vitrium hopes to build relationships with companies that have joint interests in our markets and align our business and development strategies to effectively compete.
All the programs offer a high level of personalized attention from Vitrium and the support and tools needed for success.

Interested businesses should contact Vitrium http://www.vitrium.com/channel_program/partner/.

"Vitrium's Protectedpdf® is poised to become a go-to-solution for mobile secure document sharing since we are one of the only providers of PDF security that delivers content seamlessly to mobile devices without the hassle of downloads and plug-ins. Partnering with Vitrium will enable our channel partners to capitalize on the secure file sharing market, build our joint interests, and serve our customers better."
Susan Daly, President & CEO, Vitrium Systems Inc.