It's World Paper Free Day – November 6, 2015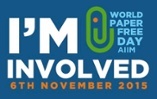 We're taking the pledge to go paper free on World Paper Free Day 2015, and we want you to join us!
The Association for Information and Image Management (AIIM), a global community of information professionals, is taking the initiative to challenge the business world to use less paper and eliminate the waste that office paperwork can create. According to a recent study done by AIIM, 35% of respondents said that most of the electronic invoices they receive get printed anyway, while 31% admit that their desk is 'piled high' with paper. The average office worker uses up to 45 sheets of paper per day, and more than half is considered waste.
Many businesses have discovered the benefits of going paperless, both financial and operational. They have found that when investing in technologies that allow their offices to go paper-free, they have improved overall productivity and experienced a positive return on investment. They were able to respond quicker to customers, maintain better compliance, and improve the ability to telework.
You can take part today by vowing to reduce the amount of paper you generate in your everyday work and personal life. It's just one day, but these actions can change habits and make a difference for the future.
For more details, check out: www.aiim.org/events/paper-free-day