Mobile Security Will Become Critical
The security landscape is constantly evolving and forcing companies of all sizes to enhance document protection initiatives if they want to remain competitive and safe. While 2014 was a big year for security, organizations will need to adapt and prepare for even more changes this year.

A recent study by G Data SecurityLabs said the increased use of advanced technologies in the private sector is making firms more vulnerable than ever, especially as smartphones and tablets are leveraged for work-related tasks.

As the consumerization of IT continues to disrupt the workforce, individuals are able to access mission-critical documents from virtually anywhere at any time. This means that any number of vulnerabilities could be exposed when employees work outside the boundaries of their traditional data center.

A separate report by InformationWeek said decision-makers today need to develop a robust mobile security program that incorporates how individuals use sensitive resources on their smartphones or tablets. If executives fail to include an access control policy for their overall document security plans, the company will likely fall victim to unnecessary exposure.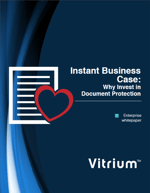 The frequency and severity of cyber attacks on businesses are increasing. If you've experienced a loss of revenue, or a shake in customer confidence due to information theft, you'll know the consequences of an attack.

Download this instant business case to find out why you should invest in document protection.