New Document Analytics for Vitrium's Document Security Solution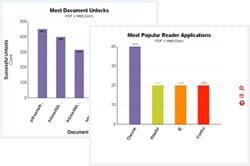 [PRWeb | Vancouver, BC, March 29, 2016] Vitrium announced today that the latest release of its document security solution, Protectedpdf version 6.0 includes new document analytics features and increased compatibility with read-out-loud applications for the visually impaired.Those who distribute PDF-based content, such as training materials, research reports, financial documents, manuscripts, eBooks, and more, can start leveraging these features to improve their end user (or reader) engagement while still ensuring that their documents are protected against unauthorized access and file sharing.
Content publishers will be able to monitor the performance of their documents with detailed, real-time data, and use these metrics to improve the effectiveness of their content. Through document-level and page-level statistics such as document unlocks, reader count, reading time, and read through rate, content publishers will have a better understanding of reader behavior and be able to optimize their content for a better reading experience. They will also discover who their most active readers are, what applications or browsers are used, and where their readers are located to ensure that their content is reaching the right target audience.
The new analytics dashboard in Protectedpdf allows administrators to view a graphical representation of the key document and reader metrics in one place for a specific time period, with drill-down capability to view more comprehensive data in the reports tab. Administrators can even export the data from selected reports to a spreadsheet in comma-delimited, or CSV format for further analysis and reporting.
"The new document analytics capabilities in Protectedpdf has broadened the scope and extended the value of our popular DRM and secure file sharing solution. The granular-level data that our customers and other content publishers will be able to review in Protectedpdf is extremely powerful and insightful – data about how their documents are being consumed by their readers, including what documents are being viewed the most, what pages are being read, and even how much time is being spent on each page. This data can be used to effectively measure reader engagement and identify exactly what content interests their readers the most. Content publishers can then use this information to tailor documents to their audience and provide the best reading experience, while still ensuring the document is secured with Vitrium's usual DRM methods."
– Susan Daly, President & CEO, Vitrium Systems Inc.
Along with the new analytics features, the latest version of Protectedpdf includes improved accessibility for readers. Vitrium's HTML5-based document web viewer, that converts PDF files to a secured format for viewing on all modern web browsers including mobile devices, now has better compatibility with screen readers and other read out loud applications for the visually impaired. This lets content owners preserve their revenues by distributing their training materials or other PDF-based educational content to all their readers, knowing that they will all enjoy equal access to their content.