Protectedpdf DRM Encryption Now Works with Box, Dropbox, Google Drive & MS OneDrive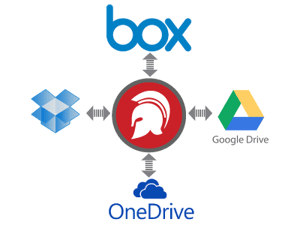 [PRWEB | Vancouver, May 21, 2015] Vitrium™ announced today that it has released version 5.6 of Protectedpdf, the popular cloud-based DRM and document encryption software solution. This latest version integrates the solution with Box, Dropbox, Google Drive and MS OneDrive making it easier to upload files from these services and save secure documents to these services anytime.

Standard and Pro Edition Protectedpdf customers who share, or would like to share, their sensitive and valuable documents via Box, Dropbox, Google Drive and MS OneDrive services, can now secure these documents and easily store them directly onto these familiar cloud file-sharing platforms. Customers having accounts with these services will find it especially useful for sharing confidential, sensitive PDF documents to the cloud service they normally would use where they can distribute them at will.

The PDF document is uploaded from the cloud service of the administrator's choice, secured, and then can be saved and shared out to that service easily.





The cloud-sharing feature is included with all Standard and Pro Edition accounts. Enterprise customers will need to contact Vitrium to see if their custom installation can be integrated with these services.

Find out how to use Dropbox, Box, Google Drive, or MS OneDrive, accounts to send files to Protectedpdf, and save secure PDF files directly to any of these services.

Other improvements included in the Protectedpdf version 5.6 release are:

An improved help area that links to Vitrium's new helpdesk area featuring ticket submission, knowledge base with FAQ's, search, a community forum, and articles.

Contextual memory for the web link, meaning that should a reader exit the document and then reopen the document, the point of last position will be remembered and display exactly where the reader left off.

Annotations and highlighting will now be remembered while the document is offline, and be synchronized regularly. End-users can also force document synchronization via the synchronization icon as frequently as desired (offline document copy and sharing permissions must be enabled for this feature).

"Everyone knows how popular file-sharing services like Box and Dropbox are. Even if many IT departments don't like to acknowledge this shadow IT, the fact remains - sensitive information in documents is being shared to these services. This 5.6 release enables Vitrium to meet the market need for a secure solution that can provide wrap-around security for these documents – making sure they are protected within these environments, and enabling administrators to use the tools they are most familiar with."

- Chris Butlin, President & CEO, Vitrium Systems Inc.
Interested in Protectedpdf? Need integration with your systems? Find out what Vitrium can do for you by requesting a demo.

Read original PR Web post here.