Vitrium Releases Versioning for Protectedpdf® Copyright Protection Software
[Vancouver, Feb 24, 2014] Vitrium™, maker of Protectedpdf® DRM and copyright protection software, announced today that it has released a new version of its popular software that allows Enterprise users the ability to upload and manage multiple versions of their documents. Vitrium has also added a new "Instant Business Case: Why Invest in Document Protection" to their suite of resources available to businesses interested in adding PDF content protection to their risk and access management considerations.

With Vitrium's new v5.3 release, Enterprise edition administrators can now manage multiple secured versions of their documents within the user interface, allowing for greater flexibility when documents are frequently updated.

To find out about all the new features for Protectedpdf®, go here:

Protectedpdf®'s new features include:
Improved search. Administrators will be able to search for documents via the document code, or the HTML5 web viewer link.
Simplified activity reports. Redundant fields in the activity report have been removed.
Document versioning (Enterprise editions only). Upload multiple versions of a document and manage them right in the dashboard. The new "Version" column in the document area allows administrators to manage these versions via the new "Manage" button, and displays how many versions of the documents have been uploaded. Clicking this button allows access to the versioning management panel of the interface.
Use custom group IDs and external keys. (Enterprise and Pro editions only). Some customers requested the ability to have custom identifiers to track groups. Now these clients will be able to use their own custom IDs and keys.
Use custom reader IDs and external keys. (Enterprise and Pro editions only). Administrators can now track their readers using their own custom IDs and external keys.

"We continue to innovate and respond to our markets with Vitrium's Protectedpdf®. This new release addresses several requests from customers to manage different editions of their documents, and we're delighted to be able to offer this feature for customers who require it. Plus, the new "Instant Business Case" makes it easy for CIO's, CTO's, and Risk Managers to present a convincing argument for adding user-friendly document security to their business."

- Chris Butlin, President & CEO
Vitrium Systems Inc.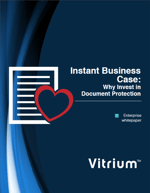 Vitrium's new "Instant Business Case: Why Invest in Document Protection" makes it easy for business managers to propose content protection. Along with their new infographic "Top 10 Why's for the C-Suite", Vitrium presents convincing arguments (especially in light of all the recent information security breaches) for companies to be proactive in adding copyright protection and document security to their information management workflows.

Interested in Protectedpdf®? Request a demo to find out what Vitrium can do for you.

View the original PR Web release here.