BlueFlamingo are an award winning digital enablement, software development and web design agency with offices in Toronto, Canada and London, United Kingdom. BlueFlamingo work across many sectors including market research and financial services. BlueFlamingo provides consultation to clients around technology choices, data integration and digital strategy. They also build bespoke software to meet specific requirements including advanced API integrations between Vitrium and eCommerce platforms.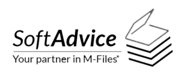 SoftAdvice is a value added reseller, selling Vitrium Security as a standalone solution for customers in Belgium or the UK, or as part of an integrated offering within the M-Files enterprise content management (ECM) system. SoftAdvice offers a portfolio of solutions for Information and content management based upon the M-Files platform. We strive to improve collaboration and knowledge management through the implementation of business solutions which result in a gain in efficiency and automation.

ComponentSource is the definitive source of software components and tools for software developers around the world. Today, they offer the world's best collection of labor saving software through its eCommerce website, carrying over 10,000 SKUs from 250+ publishers, including Vitrium's software which is listed in its Cloud Services category.

Eloquent Systems provides the ability to catalog all your content resources into a single "database of things" and managed like a traditional library, archives, or records management system. The company has partnered with Vitrium to offer its customers the document protection and control for their confidential, sensitive or revenue-generating documents.

Experior is an Australian based company that offers a first class evaluation experience for companies and organisations in Australia and New Zealand wanting to learn more about Vitrium solutions. Experior will provide continued support during the evaluation period, assist with deployment and and will ensure that clients achieve a good return on their investment in Vitrium.
experior.com.au

Secure Networks is a United Arab Emirates' (UAE) based IT solution provider having expertise to assist customers to understand, monitor and mitigate the risks in their IT infrastructure. The company helps customers from the development stage with their security policy deployments to offering complete end-to-end solutions which encompass Perimeter Security, Secure Content Management, Identity and Access Management, Vulnerability Assessment, Risk, Policy and Compliance Management.

ProInfra is a Mexican IT company specialized in data management, visualization, and communications, providing different solutions to corporate and industrial customers throughout Mexico. The company specializes in the distribution of different software solutions to optimize planning, maintenance, and supply chain processes. ProInfra partnered with Vitrium to offer solutions to their customers for protecting documents that contain valuable or important data.
Soft Solutions is a distributor of computer products, particularly in the areas of security, network management, storage, and VoIP. Another major part of their operation is a procurement service for resellers. They track down any hardware or software that a reseller needs help finding, by name or by function, from around the corner or around the world.