Granular DRM policies have empowered many content producers and publishers to offer multi-tiered subscriptions and membership plans to meet different segments' needs, increase their revenues, and stay competitive. That's great for revenue-generating content but how does it help for confidential or sensitive files that don't generate revenue for a business but are still equally important to protect?
Due to their sensitive nature, confidential files may also require different types of user access controls. For example, you may want to provide different levels of access control for companies that are in different stages of a merger & acquisition (M&A) deal. Maybe for those companies that are in the early stages of a deal, you decide to only provide them 1-week access to content and you set a 1-device limit for each file in your data room, but then for companies that are in the later stages (say the due diligence phase), then you provide 30-day access and a 5-device limit for each file knowing that content needs to be shared among more people within the company.
When it comes to user access control, the first and most critical function is the ability to grant and revoke access anytime, no matter where a file resides or who it is shared with. Once you are assured that your content is within your control all the time, another valuable function is the ability to set up more granular restrictions.
A comprehensive digital rights management (DRM) system like Vitrium encompasses numerous different user access controls including:
Expiration limits - a specific date or number of days when content should expire
Start date - a date when a user can first access the content (ideal for subscriptions, the start of a school term, or the start of an RFP process)
Device / browser limits - how many devices (or browsers) a user can open content on
Print limits - how many times a user can print content
Open limits - how many times a user can open or view content
IP address limits - how many IP addresses a user can open content from
Specified IP address - which IP address (or range of IPs) a user can open content from
Country or state limits - which country(ies) and/or state(s) a user can open content from or, the opposite, which country(ies) and/or state(s) users cannot access content from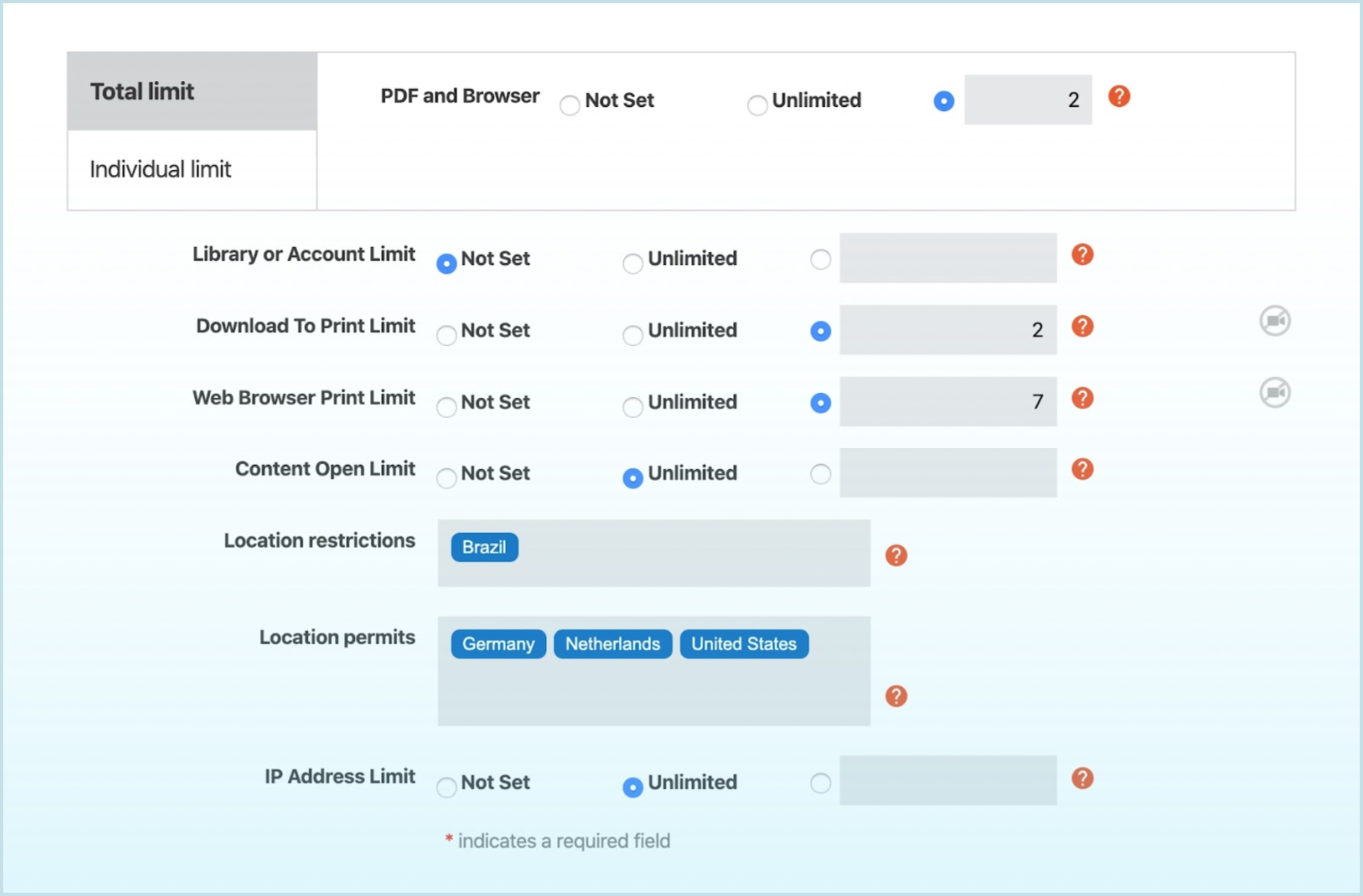 Leveraging flexible DRM controls, you can define different access control policies for different audiences or stakeholders. For example, you may only want your certified partners to access certain confidential or IP-related materials such as new price sheets and technical guides associated with a new product line you're about to release. You can provide access to those certified partners based on their IP addresses and perhaps also limit them to opening the content on a certain number of devices. Alternatively, if you have a select few other contacts that you would like to provide access but they have not been designated a 'certified partner' yet, you can assign them permission to the content but apply a more restrictive policy such as access on 1 device only, no printing, and no copying based on their non-partnership status.
This flexibility can be extremely valuable for companies that operate with a subscription-based model. Let's take the example of a research firm that distributes a highly-sought price reports for the commodities sector.
They offer 3 different subscription plans to their clients, all with different price points and different offerings: (1) Bronze, (2) Silver and (3) Gold.
Here is an example of how tiered subscription plans like this can take advantage of flexible DRM access controls.
The more comprehensive and flexible your DRM access controls are, the more diverse permission levels you can set, and the more revenue you could earn by up-selling to the more lucrative subscription plans.