Vitrium Advanced DRM Software: Annotations Sharing
By Claudia Ascione | April 26, 2023
DRM software should not only protect digital content and keep it secure, but also provide an excellent experience. At Vitrium, we are all about the customer experience. Every step of the way, we think about both your experience using our DRM software, and that of our customers when accessing Vitrium protected content.
With that in mind, we strive to add features to our software based on our customers' needs. Vitrium, in a sense, is a product built by customers!
Our new Annotations Sharing feature is, of course, not the exception. Requested by a customer with the need to allow users to view and provide feedback within a file protected with Vitrium DRM software, this feature was built to further improve your UX. What is Annotations Sharing in DRM?
Annotations sharing in DRM refers to the capability of multiple users being able to share with each other what they write, comment, draw, mark-up, etc. on a secure file that is encrypted with DRM software. These are users that have been previously authorized and whose DRM policy includes the ability to view other's annotations.
This great feature is a brand new tool in our DRM software. As part of our Advanced DRM Policies, it allows you to enable your users to share and view each other's annotations on Vitrium protected content. It's an advanced DRM setting that offers a more modern, collaborative approach to end users, while you maintain control of the content.
Enabling annotations sharing on your Vitrium account allows you to give a specific user, or set of users, the ability to view all the annotations other users have made to a particular content file. It is exclusive to the Vitrium Web Viewer, and it is in read-only mode. Always providing the ideal balance between DRM protection and ease of use.
It is a very useful tool that supports a higher degree of collaboration between your users, while always keeping your content protected and safe from copying or sharing. It can be helpful in a variety of scenarios, including but not limited to:
To administer tests (in a teacher-student scenario)

To gather feedback about the content

To provide feedback

To gain insight into how users interact with content

To conduct surveys



Why Use Annotations Sharing in DRM Software?
A feature like this one will not only improve your end users' experience, but will also help boost productivity, promote teamwork, and simplify collaboration and feedback processes.
It will improve user experience by allowing your customers to share and view feedback within the actual content file, without the need to open multiple different apps at once or have multiple channels of communication. Again, allowing you to maintain an ideal balance between DRM protection and ease of use.
Collaborators can easily access protected content and view notes or comments that have been made on it. It can also be used in an online learning setting, where students or learners are given access to content that they have to fill in, and teachers are given permission to view their responses. Coworkers and teammates can also benefit from this feature, allowing a department head, for example, to view the comments each of their team members have made on a specific file.
The applications are almost endless! It is a feature that can be applied to a multitude of use cases, and that will definitely make your life, and your end users', easier.
How to Enable Annotations Sharing in Vitrium DRM?
This DRM feature is enabled on all Vitrium Enterprise accounts by default. It is part of our "Advanced DRM Policy" fields, so it can be included as an add-on on all Vitrium Professional accounts.
To activate this feature, follow these simple steps:
In your Admin Portal, go to the Settings Tab
Select "DRM Policy Settings" on the left tab




Click on "Add DRM Policy" to create a new policy

(3a)

or select an existing one

(3b)






Select the Advanced Settings option (4a), then enable "Allow Annotation Viewing." (4b)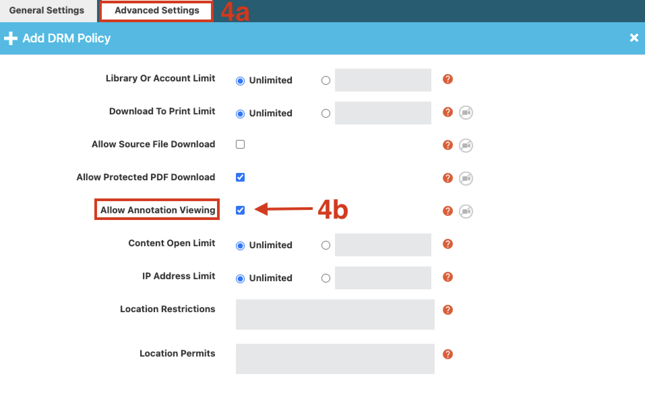 Annotations sharing, then, will be available to any user to which you apply the policy where you've enabled this feature. Make sure to only assign this policy to the specific users you want to view other users' annotations!
Uses for Annotations Sharing in DRM
There are many different scenarios in which this feature can be helpful, it can be used in a multitude of ways and applied to different use cases. Here, we showcase two of the instances in which annotations sharing can be useful:
In a student-teacher setting, where multiple students fill in the sheet and the teacher can view each of the student's annotations.



Teacher View

(with "Allow Annotation Viewing" set in their DRM policy)





Teacher View

(changing to view a student's annotations)



Teacher View

(with "Allow Annotation Viewing" set in their DRM policy)




In a work environment, where the team leader provides feedback and instructions in the form of annotations that other team members can view.

Team member view (with "Allow Annotation viewing set in their DRM policy)



Team member view

(changing to view other users' annotations)





Team member view

(changing to view other users' annotations)




These are only a couple of the ways in which this functionality can be applied! Enabling annotations sharing could bring great benefits to you and your team.



If you'd wish to learn more about how to activate this feature on your account, or need help setting it up, don't hesitate to reach out to your account manager, we'll be happy to answer any questions you have!