Finding the Best DRM Solution for Your Needs
By Claudia Ascione | March 29, 2023
When it comes to protecting your digital content, having the best DRM solution is essential. DRM, or digital rights management, is the software that protects digital content from unauthorized access, copying, and sharing. With the right DRM solution, organizations can ensure that content remains secure and only accessible to those authorized to view it. It is important to choose the best DRM solution for your needs.
DRM provides its users with a set of tools and techniques used to protect digital content from unauthorized access. Here, we explore what the best DRM solution should look like and how you can make sure your digital content is protected.
In this article:
What is DRM?
Do I Need a DRM Solution?
What Should I Look For?
What Is the Best DRM Solution?
What is DRM?

DRM, or Digital Rights Management, is the software that allows organizations to protect their digital content, such as documents, images, PDFs, videos, and audios. DRM solutions encrypt these files so that they can be shared securely online, without the risk of them being illegally copied or shared. It helps secure confidential or sensitive information, and it helps prevent piracy or tampering with intellectual property (IP).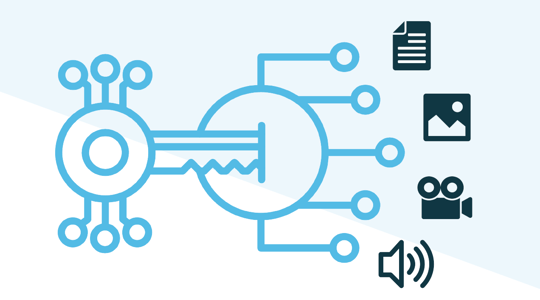 Overall, DRM provides organizations with the ability to be in complete control of their content. They can decide who has access to specific files. Moreover, they can determine how each authorized user will access and consume content. It is the set of policies, permissions, and settings assigned to specific files and users to manage the distribution and consumption of digital content.
Do I Need A DRM Solution?
If you are a content creator or distributor chances are you need DRM. If you provide digital content you need to protect your IP and prevent it from being downloaded, copied, or shared. A DRM solution will not only encrypt your content, but it will provide you with a method to securely distribute it and guarantee it is only accessed by authorized users.
A DRM solution can be beneficial to anybody who needs to securely distribute content online. It can cater to many different organizations and many different industries. From associations & standards organizations protecting standards documents, certification guides, or training materials; to education & training institutions protecting ebooks, course materials, training manuals & guides, and other curriculum content; to even research & information organizations, digital publishers, and financial service providers, among many others.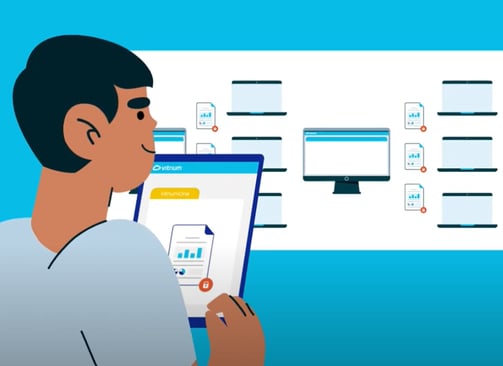 What Should I Look For in DRM Software?
With valuable digital assets to protect, the integrity of your intellectual property on the line, and the need to easily distribute secured content to your users, you should look for a high quality DRM solution. Aim for the strongest security settings and the best end user experience.
It is essential that the best DRM solution has a variety of strong security settings, strict access and usage controls, integration capabilities, and tracking & analytics tools.
When you are choosing which DRM software to use, look for:
Strong Protection & Encryption - Ensure your content is being protected with AES encryption; you can control printing, copying, downloading, and screen sharing; and you can add user-identifying watermarks.

Seamless User Access - Choose an option that does not require plug-ins or apps for your users to access content. Make sure content is quick and easy to access.

Secure Content Distribution - Look for a system that offers different methods for distributing protected content. You can leverage the method that best fits your needs.

Integration & Automation - Ensure the system you choose enables you to integrate with your existing business systems and automate your workflows for a more seamless process.

Tracking & Analytics - Make sure you have access to reports that provide insight into how your users are accessing and consuming content.
Think of Goldilocks: you want a DRM solution that is strict enough to ensure your content is secure, but not so restrictive that using it is a hassle to your users. You should look for the ideal balance between content protection and ease of use!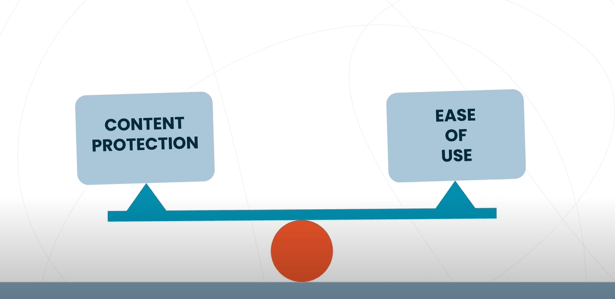 What Is The Best DRM Solution?
Vitrium Security is one of the top DRM platforms in the market. With the perfect balance between content protection and customer experience, it allows content providers to apply strong protection measures to their digital content while offering an excellent user experience. With a solution like Vitrium, users can add strong encryption to their content to keep it secure, they get extensive DRM settings that keep them in control, they can offer easy access anywhere to their authorized users, they can fully incorporate Vitrium with their existing systems, and they can distribute content without the need of external plug-ins or third party apps.
If you wish to learn more about our advanced DRM software, click here to get in touch with us or book a free demo to see it in action!