New Addition to Vitrium's Watermark Settings
By Jeevan Singh | October 26, 2021
Watermarks are an essential first step to securing your content. Vitrium's watermark settings help you protect your content by allowing you to identify ownership, discourage unauthorized use, and prevent your files from being passed off as someone else's.
This month, Vitrium added "Year" as another dynamic insert option, along with the usual options you're familiar with: Username, User ID, User Notes, etc. If you insert "Year" in your watermark setting, the year will automatically update to the current year, saving you the time and energy of changing it yourself each year!
Having your company's name, copyright disclaimer with the year, and other user-identifying information included in your watermarks is one of several key steps for ensuring your content is not used inappropriately.
Other Watermark Features in Vitrium Security
Add Different Dynamic Data as 'Inserts' in Your Watermark
User-identifying information such as USER ID, USERNAME, USER NOTES
Other data such as DATE, TIME, EXPIRY DATE, IP ADDRESS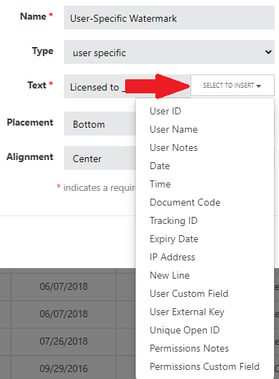 Add Any Text Before or After the Inserted Data
Add your company's copyright information: Copyright 2021. ABC Company Ltd.
Add a disclaimer such as "No unauthorized sharing or copying allowed."

Create a Multi-Line Watermark
Use the insert called 'New Line' to create a multi-line watermark

Change the Watermark Font, Size, Color, Opacity, and Placement
Choose from different font types, sizes, colors, and opacity levels
Choose from different placements and alignments





The Importance of Applying Watermarks to your Content
Watermarking not only helps protect your files, but can also be used to categorize or to show the purpose of your content with words. For example, using watermarks such as "DRAFT", "SAMPLE", or "COPY" makes it simple and easy to apply an extra layer of security on your content without causing complications for your end users. Further, in the event of unauthorized distribution, watermarks that contain user information (such as a USER ID, as seen above) can help identify who shared your content.
Applying Watermarks to your Content using Vitrium Security
To apply watermarks to your content, navigate to the "Watermark Settings" tab located under "Settings". By clicking "Add Watermark" you will be presented with a tab that allows you to create different watermarks that can be applied to any of your content.
Once your watermark is created, you need to set it to a new content setting or alter an existing one. To do this, head to the "Content Settings" page, and then select "Add Setting" or click on one of your current settings. Here, you will find the "Add Watermark" option.



Finally, under the "Content" page, you can assign your watermark to your content. In order to do this simply select the content you would like to assign the watermark to, click on the content settings option, and from the drop-down options, choose the watermark you would like to use.
By signing up with Vitrium Security, a simple, hassle-free DRM solution, your content can be protected in as little as one day. Learn more about our software, click here to request a free demo!