The world as we once knew it has been altered. Among the most noticeable changes brought on by the global pandemic of 2020 is an undeniable shift in the way businesses conduct their operations. Migrating and adapting to online operations has been the go-to for the vast majority, and the education industry is no exception.
More traditional approaches to education have given way to online education and, like many other factors of everyday life, it is unlikely it will go back to the way it was once the immediate threat of COVID-19 has passed. E-learning is expected to remain a permanent rather than temporary solution, and so the time has come for you to transform your educational content into digital assets available for sale or license.
Creation and Publishing Tools for Your Educational Content
With the migration to the digital realm comes the task of converting physical copies of educational content into digital versions of it. There are a variety of tools that can help you digitize your content that is ready to be sold and licensed immediately, and you might already be using some of them. Books, lesson plans, lecture notes, worksheets can all be digitized utilizing the following tools.
For text-based content we recommend: Adobe InDesign, desktop publishing and typesetting software ideal for creating brochures, books and ebooks; Adobe Illustrator, vector graphics editor and design program better suited for shorter, more graphic content such as book graphics and charts; Microsoft Word, word processor useful digitizing lesson plans and worksheets; Microsoft PowerPoint, presentation program useful for introducing lectures, courses, and lesson plans; Canva, like Adobe Illustrator, it is great for creating graphic content, its templates make for a simple, quick solution ideal for content directed to social media.

Evidently the content you are sharing may also include footage of past in-person lessons as well as pre-recorded videos and audios, content providers may use, or already be using, the following tools for this task.
Adobe Premiere Pro, albeit somewhat complicated to use, is the leading video editing software in the market, it will allow you to edit video in a "timeline manner"; Audacity, a free, open source digital audio editor as well as recording application software, enables you to record and edit audio of entire lessons or snippets of a particular lesson or course; GarageBand, it is a bit more complex than Audacity, but its principle function is the same, it allows you to record and edit audio files, however, it is only compatible Apple Operating Systems; iMove and Camtasia are both professional video editing tools, similar to PremierPro the facilitate editing video in the timeline, the difference being that iMovie is exclusive for Apple Operating Systems and Camtasia is exclusive to Windows Operating Systems.
These creation tools are extremely useful when transitioning from a physical to a digital realm and will allow you to successfully adapt your content for eLearning. Once all your educational material has been developed digitally, you can easily publish it as various digital assets. You can now produce eBooks rather than textbooks, create fillable and printable PDF files containing worksheets and lecture notes, and present lectures digitally rather than live or in-person using audio and video files.
These digital formats are sure to keep gaining popularity, greatly in part to their easy of use and accessibility. Web formats, for example, have become extremely popular. Their cross-device, cross-browser applicability, meaning they are able to function across different devices and browsers, makes them an obvious choice.
Additionally, links to them can be shared virtually anywhere, in an LMS, via email, on your website, on a portal, or through other distribution systems. When using web formats, however, make sure to look for solutions that will not forgo the bookmarks you created, and will provide your users with the most common types of annotation tools (pen tool, highlight tool, add text, or add comments).
PDF formats have also built a formidable reputation. The ability to download PDF files to their local machines or to be uploaded into a classroom environment guarantees users will have a positive experience when accessing your content.

It is important to keep in mind that downloadable PDFs that are not protected can be easily shared or copied unlawfully, putting your valuable intellectual property (IP) at risk. Make sure to protect your files in order to safeguard your IP. Furthermore, to guarantee ease of use, look for a protection solution that does not require plug-ins or other proprietary apps to be downloaded.
Video and audio formats are not lagging behind. Their popularity lies in the fact that they have the potential to be significantly more interactive for students and teachers alike. In addition, as opposed to in-person lectures, audio and video files can be accessed at any time, facilitating engagement with the content. They are at risk, however, of being illicitly published on public viewing sites like YouTube and Vimeo, so it is imperative, again, that you protect this content.
How to Make Your Educational Content Digital Friendly
When adopting eLearning, it is important to consider how your audience will access and consume this digital content. You must ensure that files are optimized for online/web viewing. For example, text-heavy documents such as lecture notes and eBooks should be created into PDF files using web-friendly fonts. That is, the formatting of your characters needs to be adaptable to any browser on any device to guarantee readers can consume the content comfortably and easily.
Additionally, the content you develop must be screen-readable, consider your users might access your content through a tablet or smartphone, and think about how it will look on the screen. Making the learning experience more amicable can go a long way in keeping your end-users happy, thus promoting revenue and profit.

Longer documents such as eBooks need to be user friendly as well, it is important to include a Table of Content (or Bookmarks if using Adobe software) to allow the user to quickly go to the sections or points that are most relevant to them. Splitting the content into shorter sections may also be beneficial. For example, instead of producing a single eBook, you could split it into multiple segments in individual files, this will allow the user to glance through the titles quickly and only open those they are interested in.
You should also aim to compress images, and audio and video files, as larger files will take longer to load on the screen and downloading them for offline viewing might be cumbersome. Additionally, if working with Adobe InDesign, you should keep in mind that transparencies, groups of large images, and layers, can be affected during the conversion process. For this, we suggest adjusting your PDF export settings accordingly, as well as optimizing your files with Adobe Acrobat's optimization settings. Without ever compromising quality resolution, ensuring videos, audios, and images load quickly and are easy to download will provide your users with a pleasant eLearning experience.
Use a Content Protection System for Distributing your Digital Assets in a Secure & Controlled Way
Once you have developed valuable digital educational material that is ready to sell or license, you must make sure you distribute it to paying customers without the risk of it being unlawfully shared, copied, and disseminated.
With a content protection system like VitriumOne, a solution provided by Vitrium and its partner, Blue Flamingo, all this newly digitized content can be effectively protected and successively shared with authorized users. VitriumOne is powered by Vitrium Security's encryption and DRM technology on the back-end, guaranteeing your content has ironclad protection, with a front-end application designed specifically for the education market, guaranteeing flexibility and ease-of-use.
Upload images, documents, and videos to be converted into a protected digital format that is suitable for easy distribution. Share your digital educational content easily without compromising protection and control!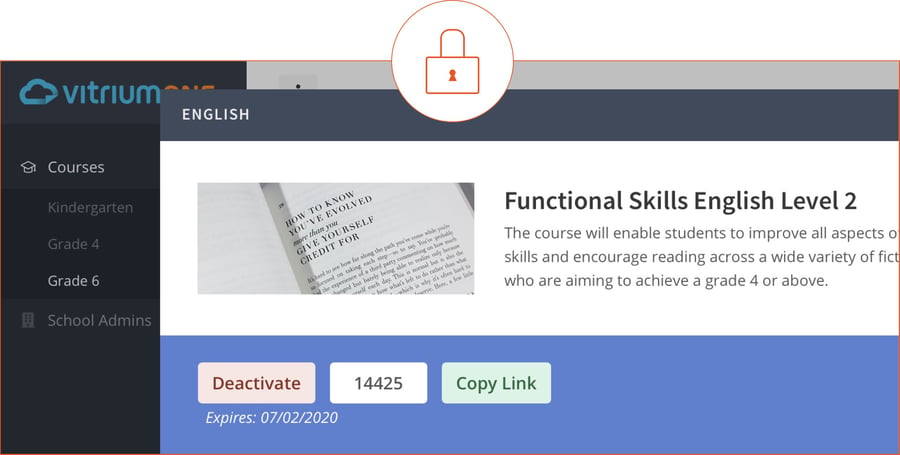 Using VitriumOne as your content distribution software allows you to share your content without the need of a full-scale learning management system (LMS). Vitrium and Blue Flamingo have partnered together to create this unique LMS alternative, a solution engineered to be an educational-focused content protection and distribution system that is designed to help you to safely distribute your content through the hierarchy of a school system - from school districts (or councils in the UK) to schools to teachers all the way to the students.
However, if it is the case you already use an LMS for managing and distributing your content, it can still be protected by Vitrium. Vitrium Security can easily be integrated into your existing distribution system to automate your content protection and authentication processes.
With VitriumOne, a solution powered by Vitrium and its partner, Blue Flamingo, your educational content possibilities are limitless. Learn more about what we can do for you by requesting a demo today.