Why a Content Distribution Platform is The Best Alternative to a Learning Management System (LMS)
By Susan Daly | September 2, 2020
Before deciding what your best alternative to a Learning Management System (LMS) is, it is necessary for you to be clear on what an LMS is, what its pros and cons are, and why, despite it seeming like your best option, you will want to consider an alternative method to distributing your licensed content.
An LMS is, essentially, software that allows educational establishments and training companies to develop, manage, and distribute their lectures, assessment materials, and other educational content. Learning Management Systems ease the process of producing, administering, and tracking educational courses or training programs.
Downsides of Using an LMS for Educational Content Providers
Learning Management Systems require you store student IDs, which can result in data privacy issues when working with the K-12 (primary/secondary school) market. Additionally, you may face compatibility issues with the Sharable Content Object Reference Model (SCORM), as it defines the criteria for developing content that can be reused in various systems. These will be too technical, too cumbersome, and are not necessarily needed for most educational content providers. Another setback to contemplate is the fact that, with most LMS platforms, end-users will have to install supplementary software and plug-ins, an extra-step most clients would prefer to avoid.

Finally, and perhaps most importantly, when using an LMS, security and control of your content is tricky to maintain. Your valuable educational content, which is your intellectual property (IP) that you earn revenue from and that you've likely spent countless hours creating, then designing, editing, and producing into a consumable format for sale, is at higher risk when distributing digitally versus physically mailing. You'll want to ensure you protect and maintain control over this IP but at the same time, making sure those who have paid for it, do get access to it.
Despite being well suited for educational institutions, training organizations, or larger educational content providers that distribute their content directly to the end-user (i.e. students/trainees), an LMS may pose challenges for smaller or medium-sized educational content providers that need to distribute their content through the hierarchy of the K-12 (primary/secondary) school system, from school districts to schools, to teachers, to students.
A Content Distribution System (CDS) May be Better
If you are in the business of creating educational content and you want to overcome the challenges listed above in this article, a secure Content Distribution System, rather than a Learning Management System, may be what you need to distribute your content digitally while maintaining the utmost control and security. A secure CDS will allow you to safely disseminate your content without having to worry about additional eLearning features or SCORM compatibility, that are not necessary for content providers selling into the K-12 (primary/secondary) school system.
Using a secure CDS gives you the freedom to update your content, license it to specific schools, districts, or teachers (if you sell direct to teachers), and control how they access the content, all while ensuring your materials are secure and protected at all times.
Here's how a CDS compares to an LMS for your digital content distribution needs:
Content Distribution System (CDS)

Learning Management System (LMS)

Users have their own central profiles to access their learning materials without the content provider needing to store the student IDs
Content is protected from unauthorized users via encryption and digital rights management (DRM) controls
Content distribution is easy to manage and track
Content can be updated easily and at any time, from anywhere
Mobile-friendly viewing for users; protected learning materials can be viewed anywhere using a desktop, laptop, tablet or even a smartphone

Users have their own central profiles but you may need to store student IDs and other personal identifying information (PII) in order to provide the right access
Content is not protected from unauthorized users (i.e. savvy users can access content intended only for instructors/other grade levels)
Content distribution proves quite difficult in a hierarchy system like the K-12 (primary/secondary) school market
Users may need to install apps or plugins to access content, especially on different devices


How to Set up Your Content Distribution System Easily
Once you've evaluated your needs and settled on a content distribution system (CDS) for distributing your educational materials, you're already halfway there! VitriumOne is a solution that can help you achieve your CDS goals. Developed by Vitrium's digital enablement partner, Blue Flamingo and powered by Vitrium's content encryption and digital rights management (DRM) technology, VitriumOne was built specifically for educational content providers.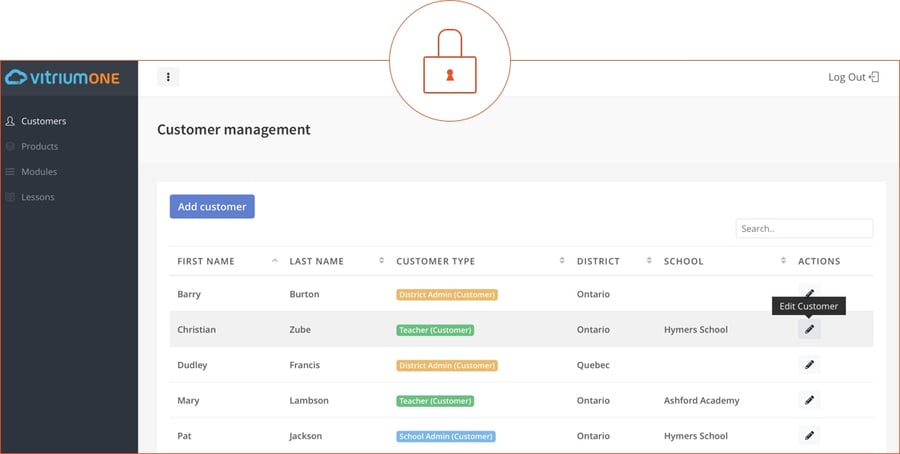 Together, Vitrium and Blue Flamingo have created a platform that empowers educational content providers to safely sell and distribute their materials to administrators and educators within the primary/secondary school (K-12) markets. The team at Blue Flamingo will help you get your content uploaded into the system, encrypting the content when it's uploaded and converting it to a secure, web-friendly format. They will also help you set up all your different buyer types whether they are schools, the school districts or councils, or even teachers. VitriumOne's user administration is flexible and powerful to accommodate the hierarchical structure of the school system.
Once all your buyers have been set up and you're well trained in using the system, you can begin selling and licensing your digital educational content to the school market, rest assured that as you distribute your content, it will be protected at all times and cannot be shared with unauthorized users.
The bonus: this is all delivered within a mobile-friendly web app that can be accessed by users on any device without the need for additional downloads!
Learn more about VitriumOne and how it can benefit your educational content company by requesting a demo today.