In early 2020, the global pandemic caused thousands of schools to close worldwide. According to UNESCO, as of April there were upwards of a billion affected learners (Figure 1). Along with these closures came the realization that schools could no longer accept and distribute physical copies of educational materials. To prevent the spread of the virus, packages containing textbooks, lesson plans, work books, etc. now had to be delivered in such a way that there was no physical contact. Moreover, traditional in-person lessons necessarily gave way to virtual lectures.
Schools, then, were forced to adopt online education practices. Educational content providers whose content was already digitized and ready for immediate distribution were able to continue selling their products to school districts (or school councils in the UK and Europe). However, those whose business relied solely on the distribution of physical copies of their content suffered a significant decrease in their revenue streams.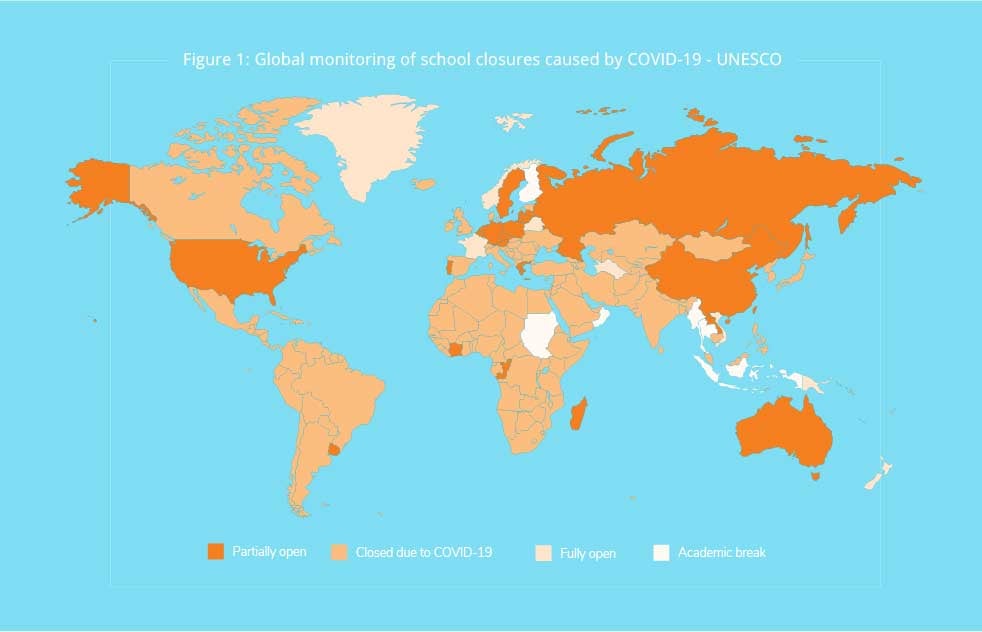 Even as schools re-opened and returned to in-class lectures, school districts faced pressure from teachers and parents alike to offer more virtual schooling options. The need to ensure education continues regardless of world events is prevalent. Moreover, eLearning offers benefits that go well beyond the ability to learn at home. Online education, as described by Oxford Learning, is customizable and comprehensive.
As explained by Connections Academy, it is customizable insofar as it "fit[s] the school to the student" rather than "fitting the student to the school." Instead of providing a generic methodology, it offers more flexibility to meet the different learning needs of students. It is comprehensive in the sense that it broadly covers the capabilities and shortcomings of all students. eLearning empowers students to "learn at their own pace" as each individual has the opportunity to approach the material in a way that is in accordance with their capabilities. Additionally, online education fosters an atmosphere for uninterrupted instruction. Less time wasted and fewer distractions gives the student the ability to learn more, and retain knowledge faster. Connections Academy also found that students in virtual schools have better interconnection with family and friends, as well as their instructors.

However, it is erroneous to think that online learning could entirely replace face-to-face instruction. Pedagogy, that is the approach or method utilized by the teacher, has a great impact on students and how they learn. It is not as simple and clear-cut as providing the material and asking students to do the work, and an important part of it is the ability for the teachers to interact on a personal level with each of their students. Moreover, as Rebecca McKeon explained, [students], emotionally, have been affected by not being able to be around their peers" and "do their normal things." In person learning offers social and emotional benefits to students "that online learning cannot make up for." In addition, said McKeon, relying solely on online learning could promote a lack of accountability for student work:
"I'm not sure how much of the work my students did and how much the parents did, [with in-person teaching] you can hold the [students] a little more accountable and see "what they do independently."

Rebecca McKeon
Perhaps a blended approach to learning offers a combined solution that reaps the benefits of both online and face-to-face education. In this regard, blended learning provides students and teachers alike with the best of both worlds. It facilitates the flexibility and customization of comprehensive online learning and ensures social and emotional interactions for students and accountability for student work. Naturally, with blended learning, even as students go back to school, the demand for virtual schooling and the need for online content is only expected to grow.