How Secure Portals Protect IP of Research Publications
By Susan Daly | June 17, 2020
One of the more frustrating statistics for Research and Information companies is that "17% of digital publications are consumed illegally." To make matters worse, many of these companies report that subscribers sometimes don't renew their subscriptions because they are finding ways to obtain the materials they would otherwise pay for from other sources including other subscribers. If you're not protecting your digital assets within a secure portal you risk losing revenue.
Research and Data Intelligence Companies Need Ironclad Digital Asset Protection
Experts in the field of market intelligence work tirelessly to create intellectual property assets such as market research reports, price sheets, analyses, forecasts, and more. Without a properly secured portal that utilizes a digital rights management (DRM) solution, all of those documents, images, videos, and other files are in jeopardy of falling into the hands of unauthorized users.
For many Research and Information companies, selling these types of products is at the core of their revenue streams. As such, IP security is critical to protecting the backbone of their company. Using Vitrium to protect your company's most valuable content is the best way to ensure that only authorized users gain access without hindering user experience.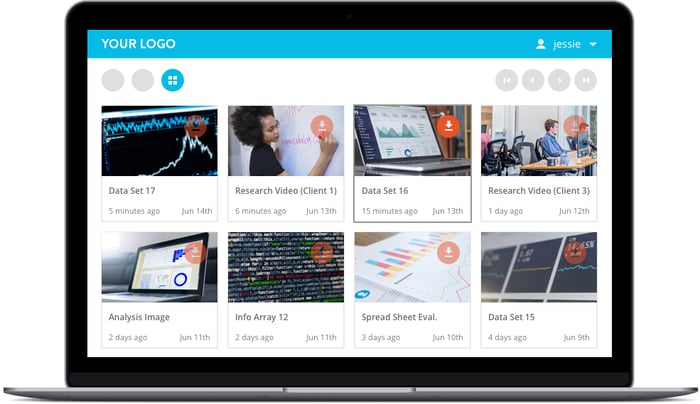 With Vitrium's customizable and secure portal, you can efficiently manage your content in one place and your clients don't need to download any additional software, apps, or plug-ins to access the content.
Your paying clients want easy access to the content they have paid for, and we simplify the process of delivering it to them in a way that is highly encrypted and traceable. You don't need any technical expertise or complicated coding. If you can drag and drop files, you can build your secure portal.
Case Study: Wohlers Associates

Independent consulting firm Wohlers Associates came to Vitrium to protect their annual publication "The Wohlers Report" from being accessed by unauthorized users. The company learned that someone had illegally obtained a copy of their valuable report and was selling it for $1 on a popular foreign website.
The moment Terry Wohlers, the Principal Consultant and President of the company learned of this leak, he knew that password protection wasn't enough for the valuable report that his company puts so much energy into creating every year. With Vitrium, the report and all future digital products could be placed into a secure portal. The content was also given a double layer of protection thanks to Vitrium's encryption capabilities and digital rights management (DRM) controls.
Every report uploaded into the portal is encrypted and utilizing controls such as expiry dates, device limits and print controls, this gives Wohlers peace of mind knowing his content is secure at all times while also tracking the usage of his reports.
Combining a secure portal with a DRM solution streamlined the process of content distribution for Wohlers. The accessibility for authorized users was also simplified. Rather than sending out new emails with new passwords every time a report is available, authorized users can utilize one login and password for all of the content they purchased access to.
Case Study 2: iData Research

International market research and consulting group iData Research creates and delivers business intelligence and reports that are focused on the healthcare industry.
The problem that iData faced was that they didn't have a way to restrict users from sharing their paid content to unauthorized users. Though they sell both a corporate license and a single-user license, prior to using Vitrium, an individual could easily share content with others in their organization, thus cannibalizing iData's revenue from corporate licenses.
Plus, if that individual shared the report to their friends or colleagues via LinkedIn or their association, iData would continue to lose out on even more revenue opportunities. Hence the need to find a content protection solution.
While iData understood the importance of protecting their valuable content, they didn't want to make it difficult for their paying clients to continue viewing the materials they were paying for.
That's why they were happy to learn that with Vitrium, their clients could still gain access to their reports easily without the hassle of messy plug-ins or having to download extra software or apps for their different devices. Vitrium's secure portal and web viewer made the client journey seamless.
Vitrium Can Help You Build a Secure Portal for Your Reports and Other Digital Publications
One reason both iData and Wohlers Associates use Vitrium is that we provide one of the most robust digital asset protection systems in the market for research and information companies, with affordable solutions for businesses of all sizes.
Every moment that your content is left unprotected you are at risk of losing valuable revenue streams and damaging your reputation as users will share your content with unauthorized individuals, they may post your content to social media or to an association or industry site, or worse, they may resell your content as their own!
Don't let your hard work and your valuable intellectual property fall into the wrong hands - Click here to learn more about our secure VDR solution with added DRM capabilities.