Vitrium Vs. Locklizard: How Do We Compare
By Claudia Ascione | January 23, 2023
Vitrium is a customer centric company, and our digital rights management (DRM) products are developed with the goal of providing an ideal user experience. As the source of revenue and livelihood of your company, your content is your most valuable asset. However, it is only as good as the user experience your customers go through when accessing it.
A quality DRM solution should offer an excellent user experience and guarantee that your content is thoroughly protected. Vitrium and Locklizard are two of the leading DRM solutions in the market, however, Vitrium has considerable advantages over Locklizard.
A Better User Experience
With Locklizard, users must download and install Locklizard's proprietary apps in order to access content. This is problematic because:


It adds extra steps
It takes more time
Users may not have permission to install
Apps have to be installed on each device they use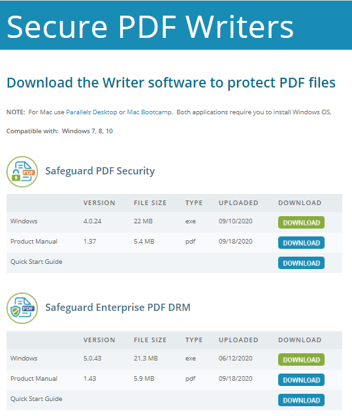 Locklizard App Download
With Vitrium, users can access their content quickly and easily, as Vitrium does not require the person to download or install any plug-ins or third-party proprietary apps.
More Supported Formats
Unlike Locklizard that only protects PDF files, Vitrium protects multiple file formats including PDF, other document formats, images, audio and video. Your content protection options are limited when choosing Locklizard, especially if you have a variety of different content in different forms.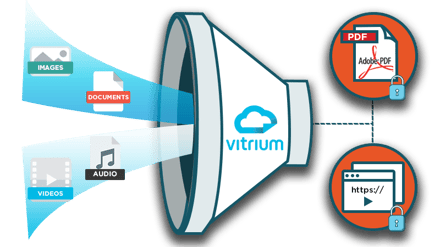 Vitirum supported file formats
Portal Customization Included in Price
Locklizard offers a basic portal with limited customization features, for an additional cost above the subscription price. Vitrium has far more extensive customization features with its portal, including the ability to add your brand colors and logo, change button and text colors, add text headers and logos, customize the folders with different colors or images, customize the domain URL, enable self-registration, and more. Furthermore, these customizations are all included in Vitrium's subscription price.
Vitrium Customization of User Portal
Efficient Administrator User Experience
Locklizard's administrator user experience is tedious and cumbersome. With Locklizard:
Administrators need to download separate Locklizard apps, one to protect content and another to access content, and this must be done for each device
Files must be converted to PDF format before uploading to Locklizard
The first protection process converts a PDF file to Locklizard's proprietary PDC format
A second protection process needs to occur to create the secure web version
Locklizard only issues 3 admin licenses per account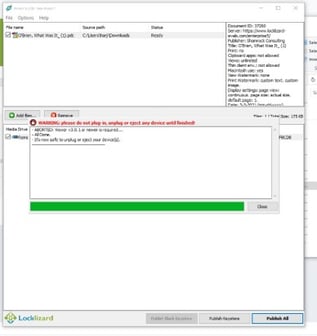 Locklizard Admin User Experience
Vitrium's administrator user experience is exceedingly better. With Vitrium:
Administrators can upload multiple content at the same time, even thousands of files at a time
Content doesn't need to be converted to PDF before uploading as Vitrium supports multiple file formats including other document types, images, audio and video files
When files are uploaded into Vitrium, two encryption and conversion processes take place at the same time: one for a protected PDF format and another for a secure web format
For video content, Vitrium encrypts and converts the video to different bitrate streams
Vitrium allows unlimited administrators per account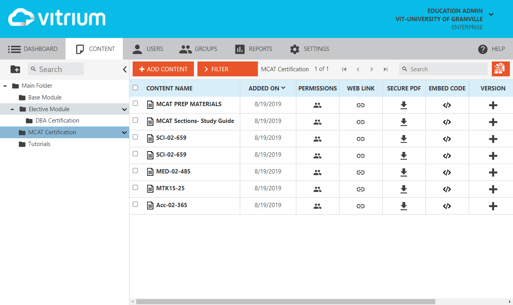 Vitrium Admin User Experience
Additional Watermarking Choices
Locklizard's watermarks are limited and simple – they have few font choices, placement, and dynamic data.
Conversely, Vitrium offers a wide variety of watermarks. With Vitrium, you can choose:
Text or dynamic watermarks with user-identifying information in the watermarks
Different font types
Different font colors
Different font sizes
Different opacity levels
Different placements, including custom placements

With Vitrium watermarks, you can also create multi-line watermarks (2 or 3 lines, whatever you prefer) and you can add multiple watermarks to your content - one at the bottom, one at the top, one in the center diagonal, and one on the left or right margin of the page - it's your choice!
Summary
Although it may seem like a challenging task to decide which DRM system to use, it is important to note that there are clear differences among the top choices. There are several details that will not only guarantee a higher degree of protection, but also make the experience for your administrators and your users significantly better. These are valuable things to consider when looking to protect your intellectual property, and Vitrium excels in both categories – content protection and ease of use.
By signing up with Vitrium, a simple, hassle-free DRM solution, your content can be protected in as little as one day. Learn more about our software, click here to request a free demo!
*The names and logos of third party products and companies shown on the website and used in the materials are the property of their respective owners and may also be trademarks.*