Vitrium's digital rights management (DRM) and content-level settings are extremely advanced and significantly more flexible. With Vitrium, content providers have more choices when it comes to their content protection settings, as different DRM policies can be applied to different users or groups of users. Conversely, Digify's DRM settings are very basic and restrictive. Customers can only set these controls at the data room level for all files and all users within it.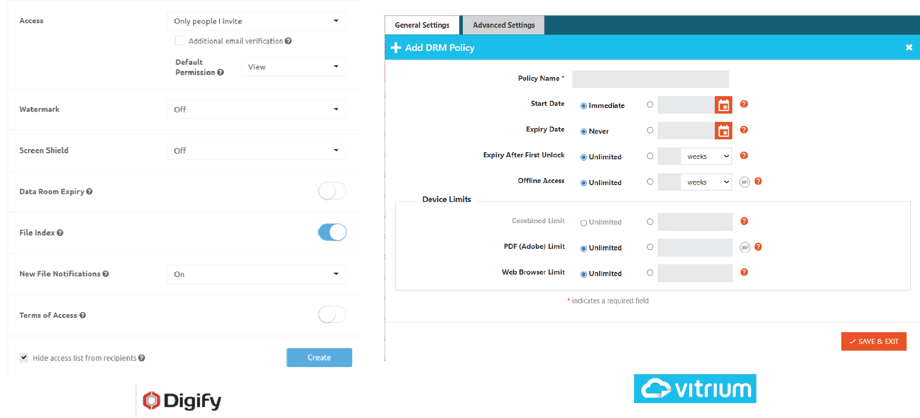 User Management
With Vitrium, adding and managing users is simple and straightforward. You can add them individually or via CSV import, and edit or delete them as needed. Additionally, Vitrium's Enterprise Edition gives you the opportunity to manage users in your third party system and connect them to Vitrium via APIs. Digify, on the other hand, requires that you re-enter a user's email address every time you need to share files with them, as well as create different data rooms for different groups of users. There is no central place where you can manage all your users and groups at the same time.

Data Room / Portal View
Vitrium allows you to securely distribute your content through a fully customizable data room (or user portal), where your authorized users can easily access all the content that they have been granted permissions to. Having the option to customize the portal to reflect your brand image provides your audience with a seamless user experience. You can add your brand colors and logo, add images and thumbnails to your folders, and customize your URL. As opposed to Digify, which only allows you to add your logo at the top of the page at a very reduced size, and does not enable folder customization. Additionally, Vitrium allows you to easily rename and customize folders, whereas Digify requires you to delete the folder and create a new one if you need to rename or edit it. This is time consuming and cumbersome for you as a content provider.

Secure Web Viewer
Vitrium is a customer centric company through and through, which means we take the time to listen to our customers' needs when developing and improving our product over time. Our web viewer in particular has been created with this in mind. Therefore, it is visually appealing, easy to use, and contains numerous features that users have asked for over the years. With Vitrium's web viewer, users have the ability to highlight, take notes, perform full-text searches, keep bookmarks and access content offline, as well as having different language settings. Digify, on the other hand, does not offer these important features that users need, and has a very basic web viewer.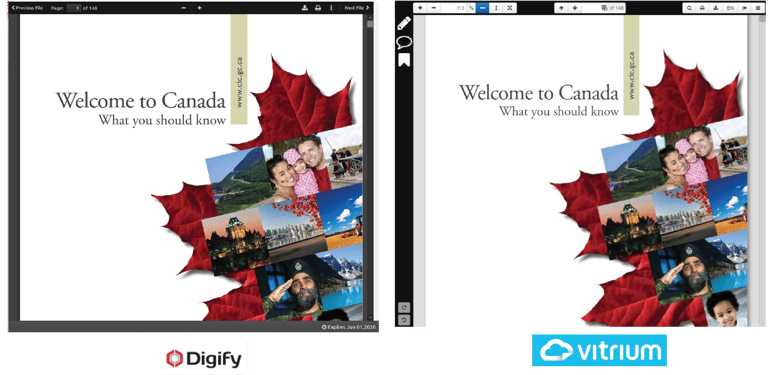 In addition, loading times for the user are significantly longer with Digify's web viewer, particularly for larger files which are over 10 MB. Conversely, Vitrium has spent a significant amount of time working with customers with very large files, over 1000 pages in some instances, to shorten loading times to almost instantaneous.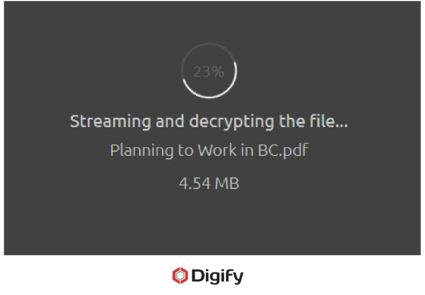 Moreover, while both Digify and Vitrium enable printing from the web viewer, there are notable differences between the two. Vitrium's printing process is friendly and simple. Users can easily print from the following browsers: Chrome, Firefox, Microsoft Edge, Safari. On the other hand, there are several issues when attempting to print from Digify's web viewer. Users report text is randomly lost, text spacing is often off, and paragraphs tend to be faded and unreadable.
Watermarking & Downloaded Files
When it comes to watermarking, Digify's watermarks are significantly limited in comparison to Vitrium. They offer text only, and do not have many options when choosing placement and color. Additionally, only one type of watermark can be applied to each piece of content. Conversely, Vitrium offers both text and dynamic watermarks, as well as several choices for placement, colour, font type and font size. You have the freedom of creating multiple watermarks and applying several different watermarks to each piece of content.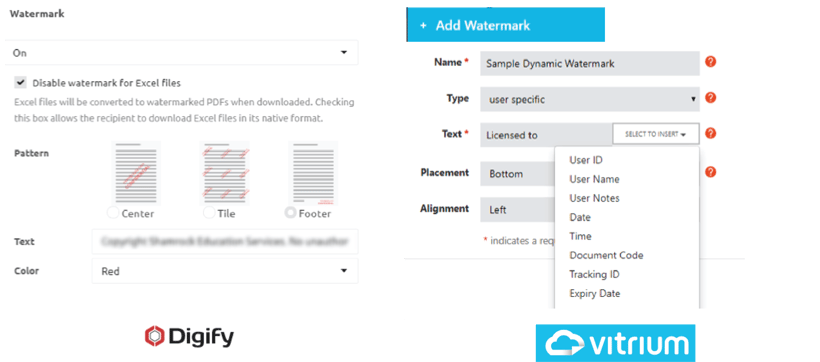 A quality DRM system should also provide users the option to download PDF files. With Vitrium, downloaded files can be either protected or unprotected depending on what you as a content provider choose. With Vitrium's protected PDF files, the protection and control policies remain with the file no matter where it goes. This ensures that whoever has downloading access cannot share the file with unauthorized users, even if the file is saved on a company network drive or a cloud account. On the contrary, Digify does not offer the possibility to protect downloadable files. Once someone is granted downloading capabilities, you lose all protection and control over your content. The downloaded file can easily be shared or posted anywhere.

File Uploading & Content Management
Once your content is uploaded to Vitrium, it is there for you to use and re-use as you need. You have the choice of sharing an individual document link or posting the content in your data room. Since Vitrium allows you to assign different policies to different users, you can use the same data room for different people and they will see different content that's assigned to them. With Digify you must set up different data rooms for different groups of people and re-upload the same files to each of those data rooms.
Summary
Although it may seem like a challenging task to decide which DRM system to use, it is important to note that there are clear differences among the top choices. There are several details that will not only guarantee a higher degree of protection, but also make the experience for your administrators and your end-users significantly better. These are valuable things to consider when looking to protect your intellectual property, and Vitrium excels in both categories – content protection and ease of use.
By signing up with Vitrium, a simple, hassle-free DRM solution, your content can be protected in as little as one day. Learn more about our software, click here to request a free demo!
*The names and logos of third party products and companies shown on the website and used in the materials are the property of their respective owners and may also be trademarks.*