Vitrium Advanced DRM: New SSO Features
By Claudia Ascione | July 29, 2022
Your content is only as good as the experience your users have when accessing it. Protecting your PDFs, images, videos, and audios with DRM software doesn't have to mean your users have to jump through hoops to access content. You want to make sure they can conveniently log in and access secured documents, images, videos etc.
With this in mind, we have enhanced our single sign-on (SSO) options, allowing you to keep your content secured and your users to have a straightforward, pleasant experience when accessing it. With Vitrium, you can enable different out-of-the-box SSO options so your users can choose how to log in. Rather than being prompted to input credentials each time they need to access DRM protected content, when SSO is enabled users only need to log in once.
Our enhancements provide different OAuth options you can choose to activate. You can enable SSO with: Google, Facebook, Microsoft, Salesforce, or a custom option. You can also choose to add a SAML SSO configuration.
Why is SSO Important for DRM?
SSO should be a crucial part of your digital rights management (DRM) strategy. It provides a higher degree of security for your content, and it gives your users a better experience. Each time a user inputs a set of credentials (username and password), it gives hackers a chance to steal this information. By requiring your users to log in only once, you reduce the risk of piracy or theft. Moreover, a user's experience is greatly improved by not having to input their information multiple times when accessing content.
SSO adds security and improves the accessibility of your product. In addition, providing multiple SSO options to access your protected documents, videos, audios, and images, will give your users the freedom to choose how to log in. If they've already logged into their Google account, for example, they can use the google SSO button to simply use this information and access DRM secured content.
How To Enable OAuth SSO Options in Vitrium
1. Access your admin user portal and go to your "settings" tab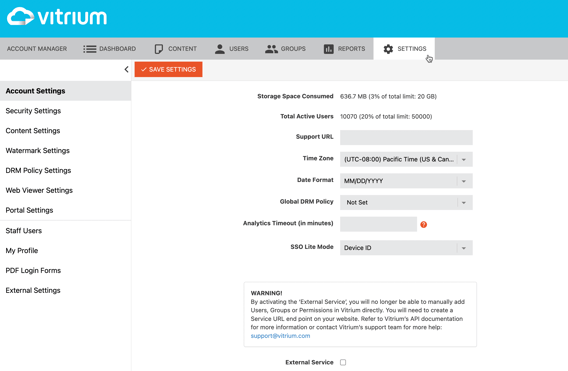 2. Click on the "External Settings" on the left hand side and select the "Add OAuth" dropdown menu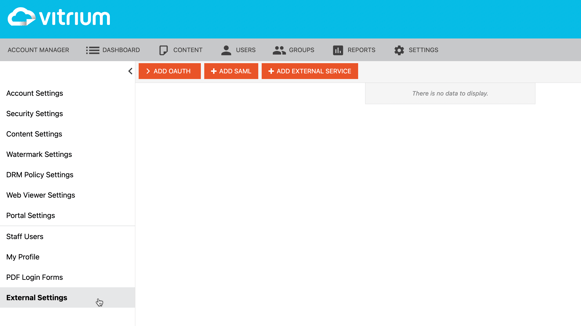 3. From the dropdown menu, select which login options you want to enable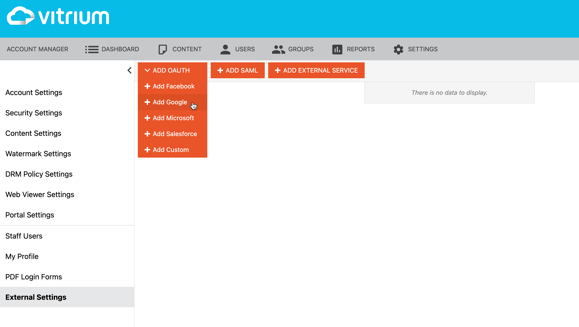 4. Select the settings for each of the SSO options you enable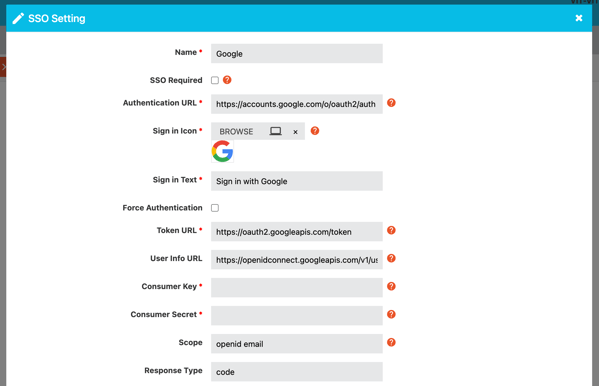 These enhancements we've made to our SSO options are just one of the many ways you can ensure your content is thoroughly protected and your users have a great experience!
Check out this brief guide on Vitrium's enhanced filters for more information on how to manage and protect your documents, eBooks, images, videos, and audios, with Vitrium.
If you'd like to learn more about these feature don't hesitate to contact us, we'll be happy to answer any questions you might have.